Here's the secret to keeping your carpets like-new for many years to come
Compared to the cold, hard feel of tile, vinyl, and wood floors, carpets can make your house feel like a home. They add warmth and comfort to any space. They're just as perfect for homes with small children as they are for those with seniors. After all, there's a reason carpets continue to be one of the most preferred flooring options in American homes. 

Yet, like all floors, carpets require their fair share of upkeep and care. Without it, they're vulnerable to staining, fading, and becoming worn down. If a homeowner isn't careful, their once-new carpet can quickly degrade in just a few years, meaning you'll have to replace them that much sooner. That's why putting the time and effort into keeping your carpets in like-new condition is worth it. In this article, we'll review several ways you can effectively extend the lifespan of your carpets and keep them looking far better for far longer.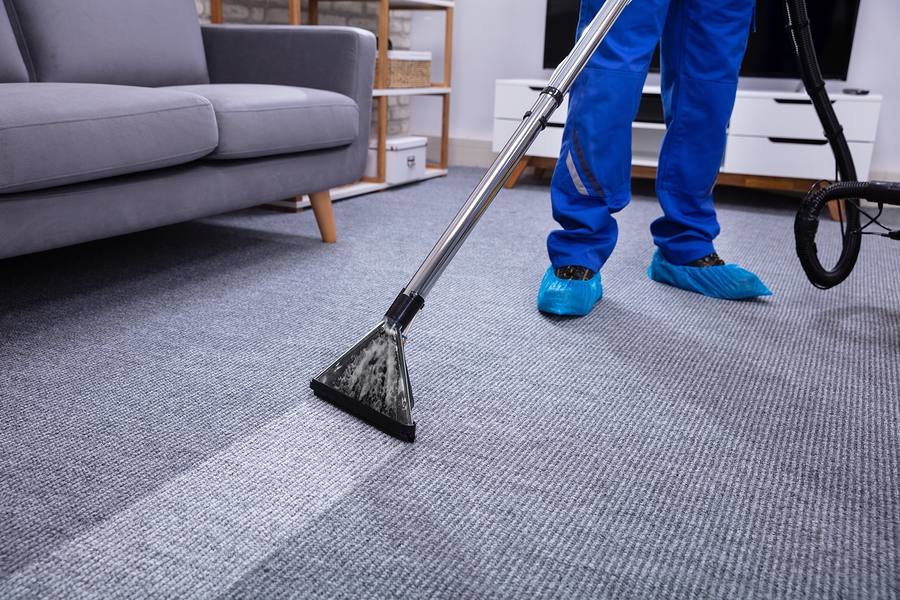 Use your mudroom, and keep shoes at the door
It turns out your parents were onto something when they used to tell you not to wear shoes in the house. Shoes are the enemy of carpet: not only do they track in dirt, dust, chemicals, and more, but they also help grind delicate carpet fibers down, leaving once-vibrant carpeting looking flat, faded, and old.
Naturally, a doormat is helpful here: it gives people a place to wipe their shoes and remove some of the dust and dirt. But, doormats might not be enough to fully protect your carpet. Our recommendation is that you ask family members and guests to remove their shoes at the door. To facilitate this, put a shoe rack right next to the main entryway. If your home has a mudroom or laundry room that visitors enter through, this serves as a good place for shoe and boot removal: after all, it's easier to mop a tile or wood floor than it is to try getting mud out of carpets.
In high-traffic areas, you may want to supplement your caution by adding rugs and runners. While covering your entire floor in a mismatched collection of rugs might be overkill (and a tad bit tacky!), putting a large rug at the center of the living room or a runner in the main hallway can be a great way to reduce the wear-and-tear on your home's carpets and ensure all the carpeting ages at the same rate.
Deal with stains effectively
There's nothing that quite ruins the look of carpet like an unsightly stain right in the middle of the room. Many homeowners resort to positioning rugs and furniture over the stain, but that's not always possible or practical. Plus, in the case of pet stains or stains caused by children, the odor might not be something you can just cover up.
If you want to preserve your carpets, it's better to deal with stains head-on. The key is treating them as soon as possible. The longer a stain has to "set," the more difficult it will be to remove or fully purge foul odors.
Did your dog or cat have an accident on the carpet? Start by removing the urine from the carpet using a shopvac or towels. Continue to add water and re-blot until the carpet is clean. If you were away from home when the accident happened, you may want to add some vinegar to this process: white vinegar helps remove set pet stains more effectively than just water alone.
Red wine stains, in particular, are difficult to remove once the wine has penetrated deep into the carpet fibers. Immediately after a spill, use a cloth or paper towels to dab it up and absorb the liquid out of the carpet. From there, treat the stain with either a store-bought stain remover or a homemade paste made from baking soda and water. Re-treat the area as necessary until the stain lifts.
Schedule a professional cleaning
If you're like most homeowners, you probably keep up with your vacuuming, dusting, and cleaning. However, this self-directed cleaning can only go so far. Home vacuum cleaners only reach into the shallows of carpet fibers, cleaning the surface level but leaving the deep carpet clogged with dust, dirt, pollen, and other contaminants. Every time you walk on the carpet, these indoor air contaminants get kicked up and breathed in, exacerbating your allergy symptoms.
Every year, schedule a professional carpet cleaning appointment. Using professional-grade cleaning tools and vacuums, a professional will be able to completely deep clean and revitalize your carpets. If there are stain spots you're still struggling with, they'll be able to help you treat and lift them. When it comes to your home's carpets, there's just no substitute for a professional. Call RUG RENOVATING today to schedule your professional rug or carpet cleaning!

Guest Blogger:
Diane Thompson
dianet@clearproclean.com
Home Maintenance Writer